Introduction
Hello! My husband Jon and I have 3 girls. We live in bright and sunny Phoenix Arizona. We are both self employed which means we spend lots of time with our kids and get to travel a lot! Our 3 girls are 13, 8, and 6. We love learning and we love having fun family time! Our house is always busy with kids and friends. We have always known that we wanted more kids because we enjoy our children so much! A typical day for us (Summer) includes doing some learning (currently learning "magic math"), some piano lessons, Spanish, horse lessons, jujitsu, 30 minutes of reading, and then snuggle time with a movie at night. We love to travel and have been to Europe, Mexico, Alaska, and are planning many more trips!
I'm all about learning and having fun! I get to work from home and see my kids all day. We have a nanny who helps us out, so I get to work a little and then play a little every day! My kids and I are always scheming and planning our next big adventure. We pick something we want to do or somewhere to visit, then we learn about it, and then we do it or visit! We are so fortunate to be able to enjoy our family! I am 1 course away from earning my doctorate, and I work with children as a pediatric specialist. I always seem to have a million things going on at once, but I love it! There is so much to do and so little time to do it all!
My wife and I have had quite a journey! We started as college students and worked hard putting ourselves through school. We were broke and it seemed like we were always working! And yet, it was still always wonderful, even when it was hard. We had 3 beautiful girls, and would have had more. It has been such a wonderful adventure! Now we aren't broke and we have all the time to spend with our children and that is what our lives are filled with. If you asked me my profession, I would tell you, I'm a Dad. And I'm so fortunate that I get to say that. We are at a place in our lives where the early building we did made us a wonderful foundation that we now enjoy!
Building Our Family Through Adoption
Our Home
We live in the suburbs of Phoenix in a picturesque neighborhood nestled in the mountains. Our community is friendly and everyone on our street knows each other. All the kids play back at forth at all the neighbor houses. Our house is always full of family and friends. We grandparents and 4 of the kids' aunts and uncles (and lots of cousins) living right here in the neighborhood. The area has lots of walking paths, bike paths, and play grounds. Much of our church community also lives here in the neighborhood. The kids go to school nearby at a school they very much love and they are involved in many school activities. This neighborhood allows our children to have close relationships and community ties that are sometimes hard to find these days.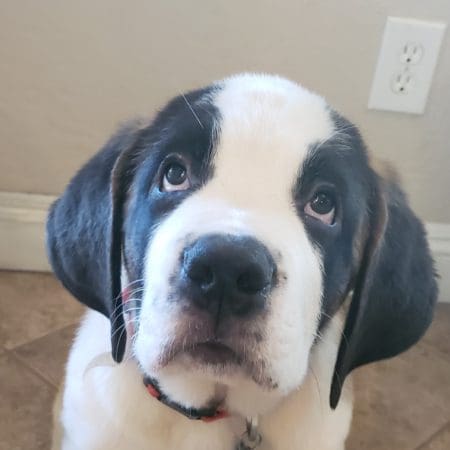 Our Pets
As a part of my profession, we house our therapy dogs at home with us! We have a St Bernard named Bear and a Golden Retriever named Rosie. Each dog has been professionally trained and is wonderful with kids. Neither dog works at the clinic yet, but each is on their journey to someday work with kids in pediatric therapy!
Our Family
Our family is very close (and very pro adoption!). I am the oldest of 7 children and my husband Jon is the 2nd of 4 children. All but 1 of his siblings lives nearby and all 6 of my siblings live nearby. My grandparents, parents, and 4 of my siblings also live here in our neighborhood, so my kids think parties happen every Sunday! Some of my siblings married into his-mine-ours situations, so we have step cousins in the mix as well, but you would never be able to who belongs to who! As aunts/uncles, we treat each one of the kiddos as though they were ours. There are boundaries of course, but we are fiercely loyal to one another as well as our kiddos.
Our Traditions
We have family dinners on Sundays. Our kids love it. They think it's a party every week. Halloween is a major holiday for us. We always do Halloween up big.