The Climb to Parenthood
Protecting Your Family From Adoption Fraud
One Family's True Story of Adoption Fraud
The journey to parenthood is not always easy. When we look back at how far we've come and look ahead to our goal of finding a sibling for Hudson, it seems as if there is constantly a mountain of obstacles in our way. Navigating our way has been a long and difficult process. This is our Mt. Everest… our Kilimanjaro. In our journey to the summit, we have discovered just how many different paths can be taken and how many tools are needed to get there. Not all paths are fit for travel. Some paths are longer than others; some are steeper and more dangerous. We have slipped and fallen several times. The climb has been physically, mentally, and emotionally exhausting. This has been a ten year climb for us. People earn degrees and get well into their careers within this time. From our experience we have so much that we want to share to help others that are on similar paths. These experiences shape who we are, and we will not let this knowledge be a waste. We want to pass it on. We hope that others can learn from our hurdles and experiences. The positives and the negatives. Sometimes we grow weary from getting beat up along the way BUT we have never given up on completing our family. We just keep fighting to reach that summit. To us, the end result will be the ultimate reward and is worth the fight.
A few months ago, we thought that our climb was finally over and that we were finally reaching the summit. We were elated and grateful, and the fact that it took us so long to accomplish made it all the more sweet. Chances are, if you're reading this, you know what it's like wanting a family so badly that you would do almost anything to achieve it. You know that it takes perseverance and strength, and you know that without a doubt, family is worth it.
Family is everything to my husband and me. Our siblings are our very best friends. In life, we've learned many acquaintances will come and go, but family is always there. So when my husband and I started struggling with infertility, it was a blow that we didn't expect. We thought that we'd be like most of the rest of the population and get pregnant within the first few months. NOT. WHAT. HAPPENED. It took us 3 rounds of IVF to have our son, and we tried 2 more rounds of IVF and 1 IUI to give him a sibling. We faced failed attempts and miscarriages along the way. We spent every penny we had and then some. We put our whole selves into this and decided to move from infertility treatments to a different path through adoption.
It came as another shock to us that not only is adoption hard, but we would even say that it is harder than IVF ever was. At least with the infertility treatments, I could control what I was eating, how much exercise and rest I was getting, what the correct amount of meds I was taking at the right times, etc. With adoption though there is so much you cannot control. You have to be okay with that. Okay with the fact that adoption is a powerless journey for the adoptive family.

Our adoption journey begins…
About a year ago, I created a website, A Sibling for Hudson. We shared our site on our Facebook pages and asked family and friends to do the same. In September 2018, we weren't reaching any birth moms, so we decided to try FB marketing and paid $15 to boost our post. Within 3 days, we had heard from 3 different birth moms who had reached out to us. We were filled with hope and excitement when one of those birth moms seemed to be a perfect fit. Little did we know at the time that this "birth mom" had the cruelest intentions imaginable.
Ultrasound of our little girl
For 3 months, we texted every single day – sometimes for hours. She roped me in with her words telling me that she wanted us to adopt her child, and she knew we were the best family possible for her baby girl. We were elated that she had chosen us. It seemed like our dream was coming true. As we grew closer, she seemed to need constant emotional support, but this seemed understandable to me. She was making the hardest decision of her life and wanted to make sure the family she chose for her baby was perfect. She wanted to know how our extended family felt about the upcoming adoption, what names we were considering, what her bedroom would be like, etc. She did not need or want financial support and kept assuring us that her insurance would cover the entire thing, especially since she is a veteran. Everything seemed to be going so well, so I planned a trip to Virginia to meet her in the beginning of November. It just felt right, and I was so excited to get out there and meet her in person. Since this would be an open adoption, we would be like extended family.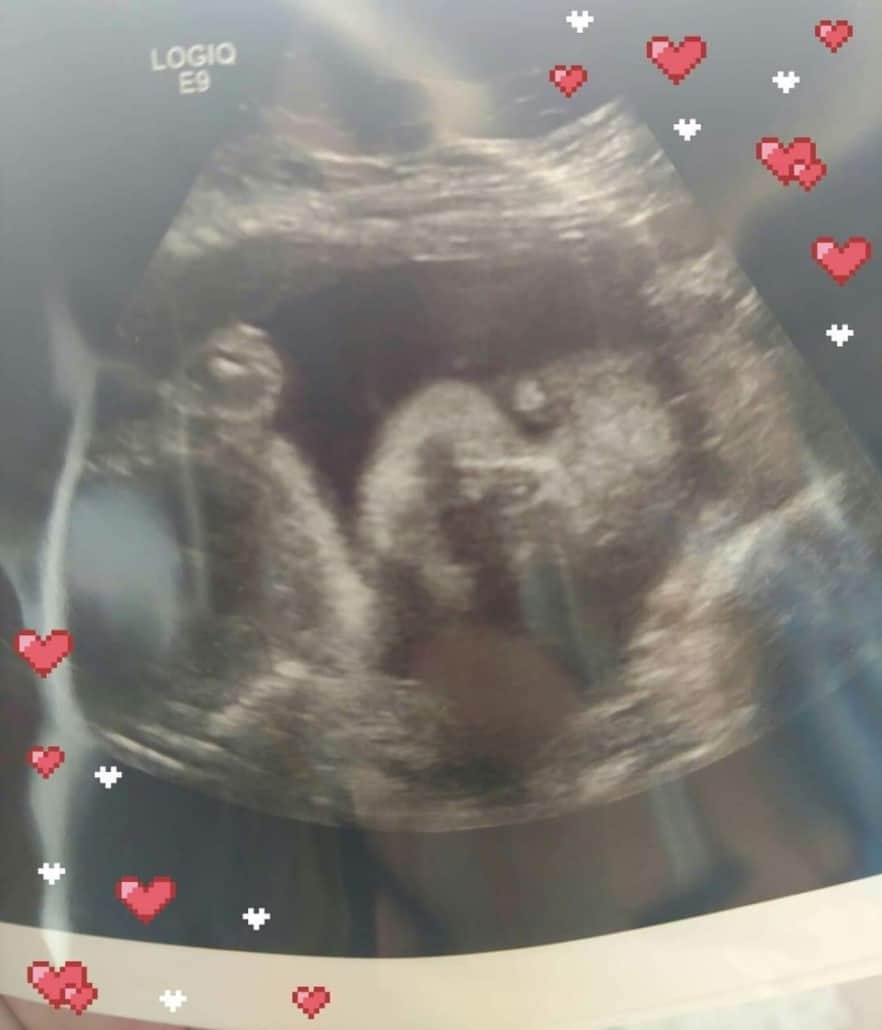 Meeting our Expectant Mom in person
Over the 3 days while I was there, we toured the hospital where the baby was going to be born, went shopping for a going home outfit for baby girl, and did a professional photo shoot together in which her good friend took the photos. The day before I flew home, we met with an adoption lawyer where she signed a Power of Attorney giving us legal rights to make medical decisions for the baby once she was born. Later that same afternoon, we went to a doctor's appointment for her. She had been telling me the entire time that her doctor knew that she wanted to give the baby up for adoption, and that she wanted us in the room when she was born. Again, we were so grateful, and when I made plans to go out and meet her she assured me she had scheduled a doctor's appointment so I could see an ultrasound and meet the doctor. When we went into the doctor's office that afternoon the birth mom asked if I could run back to the car and grab her water bottle for her so I quickly obliged, but while I was out she was called back into the doctor's office. I texted her and told her I was in the waiting room, and she responded saying she was just going to get undressed and then she would send a nurse to come out and get me. The nurse never came and she continued to make excuses of why I couldn't come back. When she finally came back out into the waiting room, I was feeling pretty upset. Meeting the doctor, having my questions answered, and seeing baby girl on ultrasound was one of the biggest reasons for my visit. At that moment, I was so frustrated I was thinking about coming back to California. What happened next made me change my mind. We sat in the car for hours talking. She sobbed and told me how hard this was for her, and how scared she was about the process. She seemed to be struggling with how hard giving up her child would be. It made me feel guilty for having been frustrated. This poor birth mom was making the hardest decision of her life, I thought, and once again I let the red flag go, explaining it away as being understandable. The next day I was set to fly home. It had been an overwhelming weekend of emotions, and I was feeling exhausted. We had pretty much spent every waking hour together, eaten every meal together, and spoke at length about everything more than once. The doctor's appointment and the fact that I didn't get to meet her husband while I was there were things that were nagging at me, but I just excused them as being too hard/emotional for the birth mother and father.

She's having contractions
Over the next couple of weeks, she struggled with what she said were strong contractions, and we worried. She said the doctor needed to give her a cerclage because the contractions had caused her to dilate to 3cm. When the week of Thanksgiving came, the birth mother was pretty insistent on us coming out there sooner. She was in pain from the contractions and uncomfortable. She wanted to have the baby. She didn't want to be in pain any longer, and then have to deal with the emotional pain of giving up the baby in addition to that. We were empathetic and didn't want her to be in any additional pain. We changed our flights twice that week to get out to her sooner to be there when our baby girl was born… this time with my husband and son. Words cannot express how elated we were that we were about to meet our daughter.
Once we arrived, my husband, son and I drove out to birth mom's home so we could see her and her children. Our son and her children played and got along well together. The next morning was a Monday, and she had her husband bring her in to get the cerclage out. According to the birth mom, labor would come fairly quickly after that, so now it was a waiting game. As the week went on, we spent almost every waking hour with her and her children, took them out for meals, and were very attentive to her every need. We wanted her to know how much we cared about her and the baby. We treated her like family. Since things weren't progressing with labor though, we needed to get home and assured her that when the baby was ready to be born we would come back. That changed that evening when she sent me photos of blood in the toilet and said that her contractions were getting closer and that she had lost her mucus plug. She was thinking this was it.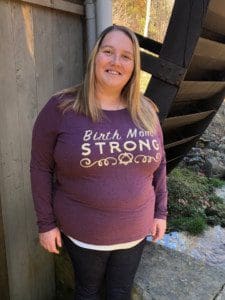 She's on her way to the hospital!
The next morning arrived quickly, and we received texts with pictures of bloody rags and insistence that she was in labor. We left right after receiving these texts and promised to meet her at the hospital right away. On our way to the hospital, she called me screaming that she wasn't going to make it to the hospital, and the baby was coming. She said there was blood everywhere. I kept trying to reassure her that all would be okay. I was literally coaching her through labor, as we all drove to the hospital. She said her husband was able to flag down an ambulance and they were taking her to a different hospital because of the NICU. Soon after, she texted and said the baby's head was born, and then said baby girl was born. She said she was, "small but beautiful." Tears of joy and excitement flooded over us. We got to the hospital and ran up to labor and delivery where the NICU was to meet them, but no baby came. No baby ever came. The birth mother was still insisting that she was in the ER passing the placenta, but that the baby was in the NICU. The nurses were literally all standing at the elevator in the NICU waiting with an incubator for baby girl's arrival. She never came. I went to the ER with the NICU nurses and the incubator, and everyone was saying there was no baby delivered in an ambulance and brought there. They said there was a woman with our birth mother's name checked in, but she wasn't even pregnant and drove herself in for lower back and pelvic pain. That moment when the nurse drew the curtain back was intense, especially when I realized it was her. The woman who had told us she wanted us to adopt her baby had made the entire thing up. The cruelest lie possible with the cruelest of intentions.
What just happened?
There was no baby, there was never a baby, she was never even pregnant. She has since admitted that. The extent to which she let this go on, even checking herself in to the hospital that day, knowing that we were waiting for our daughter, brought us to our knees. She never asked us for money so what was her motive? Could it have been to see the emotional trauma this would cause us? We were in complete shock, crushed, and completely devastated by all of this. We were left to explain to our 6 year old son why he didn't have the sister he thought he was going to have, even though we don't understand it ourselves.
Family is everything to us and we wanted to give our son, our miracle, a sibling, so we persevered. We had been building this relationship based on a lie for months. Although we did not give her any money, we gave her our hearts and we've spent thousands of dollars on flights, rental cars, hotels, and lawyers that we will never get back. I gave her constant emotional support and she asked for our faith and our trust and then took our hopes and dreams. Our son has lost a piece of his sweet innocence that he can never get back. For us, this is one of the worst parts. As soon as we returned home from this heartbreak, we decided that we needed to take this evil thing that has happened to us and turn it into something positive. We will not be silent about all of this, and hopefully, help to protect other vulnerable adoptive families who so desperately want to add to their family through adoption. No one deserves pain like this.
Keep climbing
Despite all that we have been through and the emotional pain that we are in, we have not given up the dream of adding another child to our family. If your dream is to add to your family through adoption, climb on, persevere, but please be careful. Take extra precautions, especially if you decide to self-match.
Adoption fraud – things to watch for.
Adoption fraud can happen as an emotional or financial crime and is unfortunately more and more prevalent these days as hopeful adoptive families take to the internet, as we did, to complete their families.
Watch for red flags and trust your gut!! This is so important and equally difficult. When signing on with an agency, they will instruct you to tread lightly with these birth moms, so you don't push them away. This is totally understandable, as this is the hardest decision they will ever make. We excused a lot of the red flags we saw, and just wrote them off as being the stress from the decision to give up a child. Now that we look back, we should have trusted our gut and walked away when something didn't feel right.
Confirm the pregnancy! Sadly, there are very few laws that help to guide and protect adopting families. This is still a grey area, but try to confirm the pregnancy any way possible (such as through a lawyer/social worker who is in contact with the birth family, speaking to the birth families doctor, attending appointments, etc.). Some agencies provide verification and/or proof, so ask before you sign with them.
Do your homework when picking an agency. Be sure to check what states they work in, and read reviews. There is a difference between an adoption agency that will walk you through the process of working with the birth family from start to finish, and an adoption marketing agency, who will post your picture and information for potential birthmothers. Chances are very small that you will be able to get your money back once you sign with the agency! So…
Know what your money is paying for! Before signing with an agency, don't be afraid to ask questions, and read the fine print. What exactly is your money paying for? Adoption agencies charge a lot of money to couples who could already be drained of finances due to infertility treatments, etc. Also keep in mind that…
You may be limited to who you can work with once signing with that agency? Change needs to come to the adoption industry! Once couples go through the difficult journey of picking an agency, they may be limited to working with just that agencies lawyers, birth families, social workers, etc. You don't want to miss your chance of finding the adoptive child that belongs with your family because they work with a different agency whose fees you will also have to pay.
Guard Your Heart! Adopting families are vulnerable, as they have so much love to give to a deserving child. They have gone through a long, hard process of paperwork, home studies, etc. to bring home their missing piece. Do not be in such a hurry to adopt that you forget to protect yourselves during a very vulnerable time. It is worth the extra time it will take to make sure you are protected. Not everyone is who they say they are! DO YOUR HOMEWORK! VERIFY THE PREGNANCY!
Seek a lawyer/social worker/agency's guidance BEFORE giving any money to a birthmother!
Join FB Adoption Scam groups and search for the birth moms name, and/or ask if any other HAP's are working with her!! I wish we had known these existed before our adoption journey began!
MORE HELPFUL ARTICLES: https://www.parents.com/parenting/adoption/101/8-tips-on-adoption/
https://adoptionnetwork.com/what-is-a-birth-mother-scam (similar tips to the ones we have listed)
Pregnancy Verification – Vetting
The pregnancy verification form is a letter that is used to show proof of a positive pregnancy test, confirming that the woman is indeed pregnant.
Adoption Scams
With the Internet, it seems that adoption scams are becoming more and more common. Don't let the fear of a scam stop you from proceeding in your adoption journey.