Introduction
Thank you so much for considering us to be the adoptive parents of your child. We admire you for your courage and strength as you make this adoption plan for your baby.
We were blessed with our biological son 4 years ago but have since suffered infertility, and are now hoping to grow our family through adoption.
We are excited to give you a little snapshot of our life and what we're all about.
I'm originally from Sweden, and having travelled all around the world for work and for play for a decade I met David and we settled in a coastal town in California close to where we both work.
Some of my favorites: Hiking, taking evening classes, body boarding, my job (really :), nature, camping, reading, having friends over, our pets, travel, making jams from the fruits in our orchard, trying new things, new technology and art projects with Zane. We have a number of families with young kids on our street, so just hanging out and doing stuff locally is nice too.
I love learning new stuff and read a lot, listen to pod casts, research and take evening classes.
Oregon grown and raised, I'm an equal amount outdoorsman and tech enthusiast, running deep on both accounts. I have family still in Oregon, but I've also got family nearby.
Some of my favorite things to do are: Fishing, exploring, having family visiting from out of state and overseas, visiting the theatre, learning new things, being in the outdoors, tending to our vegetable garden & orchard, 'building' projects with Zane, cooking, reading, watching college football…
Whenever I have the chance I go fishing, sometimes getting up early and catching the early tide, seeing the sun rise over the beach.
Building Our Family Through Adoption
Our Home
We live a very stabile life, where we're able to both pursue our high tech marketing jobs, all the while living in a very peaceful and safe rural area. It's the kind of place where everyone knows each other and there are lots of families with young (and older) kids on our street. There are mountains and beaches nearby, so we get all the time that we want outdoors. Creating a safe environment where we can live a healthy life, where our son (and hopefully a sibling sometime soon) can thrive has been important for us.
Our house is on a hillside, with a beautiful view, where we're growing an orchard, and have a vegetable garden. We're 15 minutes drive away from town, pre-school and 20 minutes away from the beach.
Our Nursery
The nursery is in the coziest and cuddliest part of our house, just down from our own bedroom so it's easy to do the night routines etc.
The room has a wooden crib, and above it hangs a beautiful and delicate mobile featuring bunnies and carrots that we bought in Japan. The window has a tree outside so it feels like you're in a tree house. The room also has a large nursing station/ book shelf. And most importantly a comfy nursing chair with an ottoman, in which I've fallen asleep more times than I care to remember, and there's a walk in closet where we store toys and clothes.
The set up worked well with our son, and since we have a large play area just outside the room the toys don't need to be in the nursery.
Our Pets
We have a 6-month old lab puppy called Ash, and a young male Eclectus parrot called Yoshi.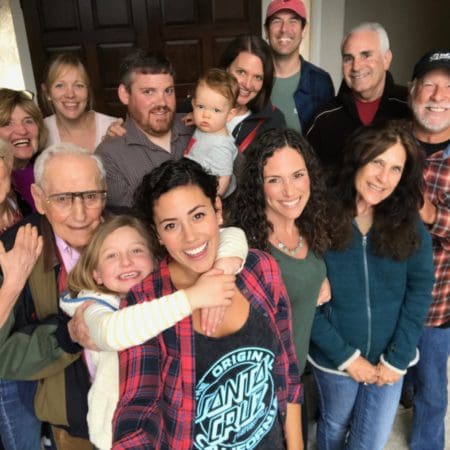 Our Family
David's family lives along the west coast from LA in California to Portland, Oregon and many places in-between. Lisa's family live in Sweden and England. We both have large families, and our siblings and parents are very involved in our life. We visit them, and they visit us.
Our Traditions
We combine traditions and celebrate our favorite holidays. Christmas, Easter, Lucia, (because who doesn't like extra gingerbread cookies), 4th of July, Thanks Giving and so forth.
Other more casual traditions include taking evening classes (adults), swimming classes in the summer and gymnastics in the winter (kids), supporting the local community, helping with the summer/ and the holiday party in the neighborhood, having a big breakfast on the weekend, and pizza on Fridays'.